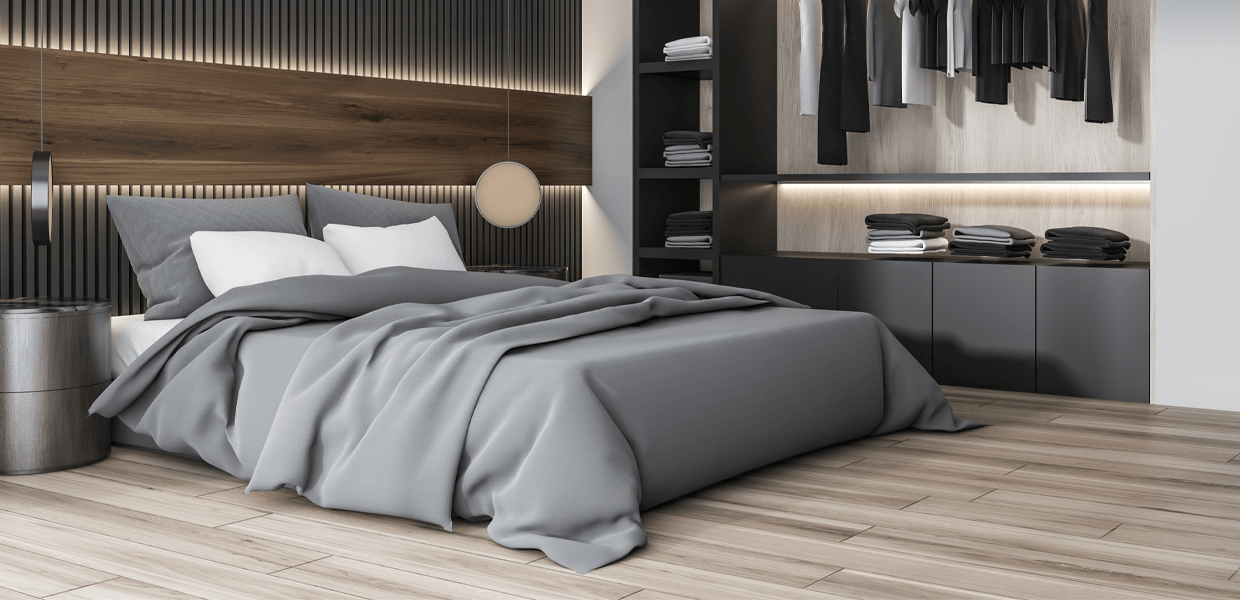 What kind of flooring is best for your Bed Room?
A place to cuddle, a place of warmth, a corner to gently slump your night away. In short, a space where comfort meets tiredness. Beside cozy mattress, soft pillow, your heavenly corner does deserve a perfect bedroom flooring. To catch few Z's, you surely crave for an ultimate oasis, and not to miss A soft touch at your feet that you will look forward every day including allergy preventive floor.
Bedroom energy keeps you active throughout the day. The way you feel when you walk around your room, the coziness, and openness, conveying style.
Solid hardwood flooring continues to be a preferred choice, its timeless beautiful backdrop for any bedding, wall or furnishing. It offers stylish opportunities, warmth with personal touch adding lifetime beauty, stability, and value. While hardwood engineered flooring can be used for DIY challenges like installing basement-level rooms or radiant heat.
Laminate sheets are good for the bedroom if you are seeking a floor that resembles wood on a practical budget. Laminate floor offer superior scratch, wear resistance and stain. It looks stunning in bedrooms offering warm and comfortable underfoot.
Consider the following points while choosing to floor for your bedrooms
Go bright & bold with color
Vibrant shades or block colors are a perfect way of creating fun-filled floorings for children flooring. It looks delightful when paired with bright furniture and accessories for children décor. Glorious flooring has an array of stunning laminate shades that can be mixed & matched with endless of combined patterns.
Pick versatile options without compromising your style
Our timber flooring (solid & engineering) is incredible to maintain, allowing it to create a perfect designer space. Our wood collection compliments every furniture allowing the decorator to generate beautiful flooring ideas.
For teenage bedroom timber wood is just fantastic as it is long-lasting offering versatile finish suiting your children's ever-changing style. The natural oak collection is suitable for both female and male children. Timber floor resists allergies and dirt offering super hygienic space.
Combine imagination & color to create a design
Pick exciting photo effect laminate floors to create a fun themed bedroom for little ones. Use playtime inspiration to turn ordinary bedroom to stunning playtime bedroom. Go for stimulating and few dark shapes which match your wardrobe, curtains, and carpets. Pick interesting colors to encourage studious attitude for children while going for cozy one to maintain mild attitude for adult or senior family members.
Opt wood effect for elegance
For budget-friendly flooring go for laminated one and for realistic wood floorings pick timbers. Authentic wood adds a perfect touch to timeless elegance. Woods are much easier to clean; Glorious Solid Timber Flooring collection and Engineered Flooring collection offers a luxurious choice for colorful bedroom space.
Glorious flooring offers a wide choice of color option when coming to timber flooring, you can choose any color without having to worry about staining and scuffing.
At Glorious, we are keen in providing suitable floors to upstand the timeless elegance of your personal den, therefore our professionals are ready to assist you in finding right kind of flooring suiting your bedroom & your kid's bedroom. We will help you spark imagination and later turn it to a realistic one. If you need any help regarding floorings, just call us or visit us at Silverwater, Sydney.